---
---
Robert Nelson
I am thrilled to start the Winter Film Festival with my mentor, Robert Nelson who was also my great friend and the subject of a solo exhibition (Common Ground) at Another Year in LA in June, 2008. - David E. Stone
"Known for prankster experimentalism and on-the-spot invention, the films of San Francisco native Robert Nelson are among the defining landmarks of the post-Beat American underground of the 1960s and '70s. His free-spirited approach, sharp wit, and artistic rigor marked inspired collaborations with William T. Wiley, William Allan, Steve Reich, and the Grateful Dead, and helped shape a language and style for the burgeoning psychedelic culture.

Born 1930 in San Francisco in a family of Swedish immigrants, Robert Nelson studied painting at San Francisco State University and the California School of Fine Arts – where he was introduced to a circle of Bay Area artists that converged into the California Funk Art movement of the 1960s. "This influence, together with the Beat sensibility of the poetry and jazz scenes, and the improvisatory theatre of the San Francisco Mime Troupe (directly involved in his first few films), formed the touchstones of Nelson's developing aesthetic." (Mark Webber).
His second wife is the legendary Swedish experimental filmmaker Gunvor Nelson, and Nelson started working with film by collaborating with her on two home movies: Building Muir Beach House (1961) and Last Week at Oona's Bath (1962).
Nelson taught at various institutions, including the San Francisco Art Institute, Sacramento State and CalArts, before landing a teaching job at UW Milwaukee in 1979 till his retirement in the mid-1990s. He then retreated in self-imposed isolation to a remote house in the mountains of Northern California – where he began to reassess his filmography.
Nelson has influenced a number of major filmmakers, such as Peter Hutton and Curt McDowell. He was the main force in co-founding the independent distribution company Canyon Cinema in 1966, hiring his former student Edith Kramer (later the head of the Pacific Film Archive) as its first director.
"After years away from the public arena, Nelson has recently begun to show his work again… This willingness to offer the films to new audiences is unquestionably a result of the care and attention they have received in the preservation activities of Pacific Film Archive (Berkeley) and Academy Film Archive (Los Angeles).
Selected Filmography: The Mystery of Amelia Air-Heart Solved! (1962) Plastic Haircut (1963) Oh Dem Watermelons (1965) Sixty Lazy Dogs (1965) Confessions of a Black Mother-Succuba (1965) Thick Pucker (1965) Penny Bright and Jimmy Witherspoon (1967) The Great Blondino (1967) Grateful Dead (1967) War is Hell (1968) Special Warning (1974/99) Suite California: Stops and Passes (Parts 1 & 2) (1976/78) Hamlet Act (1982) " - ubu.com
---
"Hailed as a true masterpiece by connoisseurs, Bleu Shut is broken down minute by minute, with a clock ticking away its duration to save the audience the trouble of craning their necks to see how much film is left on the projector. Comprising "a boat game and entertainments", this landmark film is ingeniously artful and extremely entertaining as it brilliantly toys with audience expectation and participation." – ubu.com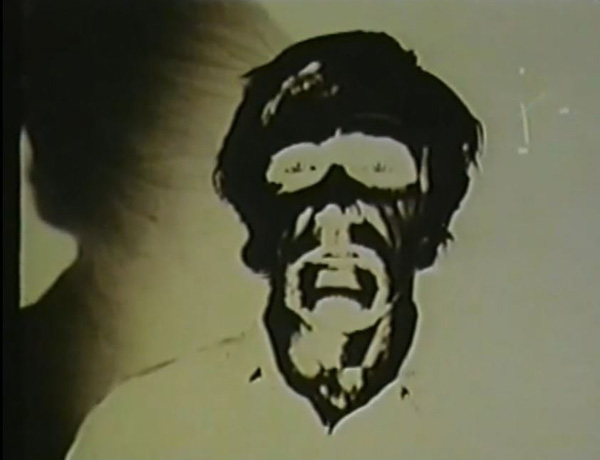 ---
---
"Watermelons was commissioned by the San Francisco Mime Troupe as a short entertainment to be screened during intermission for its rather infamous 1965 Minstrel Show (Civil Rights from the Cracker Barrel), which assaulted racial stereotypes by wildly exaggerating them -- as performed by (mostly white) performers in blackface, yet. A relative latecomer to filmmaking, the 35-year-old Nelson had just begun fooling around with the medium, mostly in collaboration with then-wife Gunvor Nelson. To make Watermelons he drafted talent from the Mime Troupe and alma mater Mills College, where he'd also found a young composer named Steve Reich, later known (to his occasional annoyance) as the father of minimalism, and thus the person to be blessed or blamed for subsequent fellow travelers Philip Glass and John Adams.

Reich's raucously repetitive choral arrangement of a Stephen Foster oldie (in which a slave mourns his deceased master) adds another satirical dimension to the color visuals, which direct the campus era's mood of anarchy and impudence toward the watermelon. Aiming to explode stereotypes and their symbols, the film finds melons used as bombs, footballs, baseballs, shooting targets, even as sensuous love objects. Watermelons are cut-and-pasted onto existing images (from Superman to a NASA missle) and sometimes animated there, à la Terry Gilliam's Monty Python 'toons. Fruits are chased by white male hordes, then turn around (via the magic of reverse projection) to chase them in return." " - ubu.com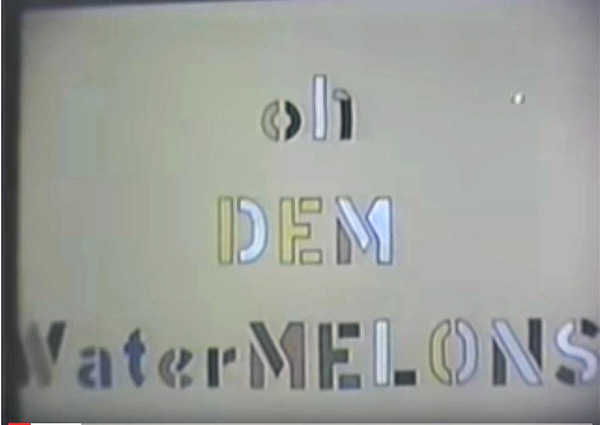 ---
"In their starkly minimal film, The Awful Backlash, directors Robert Nelson and William Allan, focus solely on a pair of hands as they begin to unravel what appears to be a tangled fishing line. Any further evidence of the title's confusing 'awfulness' – other than the literal disentanglement of the line remains, however, tentative, left as it were, literally, at a loose end. The viewer knows nothing of the incident that led to this backlash or entanglement; nor of the directors' initial motive for the title indeed not of any other attempt at blending an additional storyline beyond what is seen. There is, perhaps, one link with a reverse reaction – a sense of gradual recovery taking place, as the thread unfolds from a position of multiplicity back to a singular line." (Pamela Kember, Rethinking Refunctioning, 'Awful Backlash' catalogue, May 2000) " - ubu.com