---
---
click on an option below
Statement about artwork by Kasper Kovitz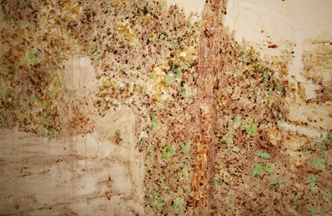 The image used on the postcard is a detail of the painting (below) for which this exhibition is named, "valley girls".
"valley girls" is made from blueberry jam, blackberry jam, strawberry jam, fig jam, apricot jam, jalapeño jelly, mint jelly, butter on canvas and is 97'' x 57'' (244 x 145cm)
Click here to return to the menu
Kasper Kovitz
by Stephen Fleming, director of the Roswell Artist in Residence Program
Working with a wide range of materials and approaches, Kasper Kovitz creates artworks that are more than a little difficult to describe. If there is an overriding issue that unites his current work, it would be the idea of the landscape, more specifically perhaps, the American West. Granted, Mr. Kovitz is not the first person to recognize the mythic character of the western United States, but his point of view is unique. Like a latter day Casper David Friedrich, Kovitz regards the West as an enormous metaphor for the human condition and possibly the final resting place of Western Civilization. By re-contextualizing well-worn icons of the American West, the log cabin for instance, Kovitz asks pointed questions: Fortitude or fortification? Solitude or isolation? Pioneer or paranoid?
Kovitz crafts objects in ways that at first glance seem calculated to undermine both our notion of what an artwork is supposed to be as well as why the landscape, or whatever other icon he may employ, is worth taking seriously. It would be easy enough to focus on the novel aspects of the objects themselves as humorous parodies of more traditional kinds of art. Curiously, the apparent irony is only a shroud for the much more disturbing question as to the relevance of the culture that imbues the icons with meaning and perpetuates the art-making practices that have brought them into existence. Only by radically reappraising the accepted notion of the "how" do we begin to explore the "why".
Click here to return to the menu
---
another year in LA is located at 2121 N. San Fernando Road, #13, Los Angeles, CA 90065
Gallery phone: 323-223-4000