---
MORE WORKS ABOUT DUST, LIGHT, AND BREATH
New Work by Richard Haley
March 1 - 31, 2015
Physical show extended until May 3 at 4695 Marwood Drive, LA 90065
---
click on a link below
THE ONLINE EXHIBITION - one half of the show
IMAGES FROM THE PHYSICAL GALLERY - after March 7 opening reception
Purchase the catalog for Richard Haley's 2012 solo exhibition
click on the image below to see the Richard Haley online exhibition consisting of 5 different drawings/videos
Once you select one of titles -
you will see a drawing and then click to the left to watch the associated video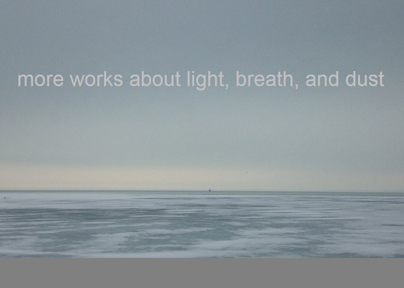 PRESS RELEASE
Another Year in LA is pleased to present MORE WORKS ABOUT DUST, LIGHT, AND BREATH, new work by Richard Haley, his fourth solo exhibition (the only artist to have had solo exhibitions at every Another Year in LA venue and first artist to be showing work both at the new gallery space (4695 Marwood Drive, LA, 90065) and different work made specifically for the online gallery).
In describing these new works, Richard Haley wrote, "My recent work investigates the use of surrogates in performance. Through video, photographs, animations and drawings, I have recorded inanimate proxies for myself (performing the actions). The work takes the literal representation of the body out of the picture and is replaced by fragments and traces. These works are documents of staged events performed by inert stand-ins tackling themes of corporeal reach and duration."
"The surrogates are literal casts of my body; my hand, finger, head, and abdomen. Others are traces of the body, such as the impression one would leave behind if lying down in the grass or residue left behind from the ashes of my cremated body. Similarly, other works employ hand crafted miniature sculptures of everyday objects to be used as stand-ins for the original.
In creating these works I was concerned with material, namely treating the body as raw material. I considered it as an apparatus composed of animate matter that decisively uses its weight and mass as needed to implement tasks at hand. Moreover, I considered its trajectory as material in death, such as employing it for tasks where a lifeless weight is needed."
"These stand-ins for myself create an attentiveness to the materials they are made from. In doing so, they also point to the actual that they reference, framing it in terms of materiality. My goal is to shift the work outside the vernacular of performance and documentation and steer it towards the presence and present-ness of sculpture."
"My training as an artist began with an interest in the bay area figurative tradition of the 50/60's. I was drawn to the gestural mark. It led a dual life- it was a record of the maker being there to create it and the same time it had another temporality, it was not just a record but a perpetually present mark as well; severing its tie from its making."
Purchase the catalog for Richard Haley's 2012 solo exhibition
"holes, voids, and other descriptive terms for blankness"
September 19 – November 9, 2012
With essays by Cathy Stone, David E. Stone, Stephen Kaltenbach and an interview with Richard Haley conducted
by Tom Friel and Sarah Margolis-Pineo. The catalog features many color images from the exhibition.
Purchase the catalog now from Lulu by clicking on this link ($20.00 + s/h)