---
Threadbare: little stubby bundles
Julia Couzens
May 1 - June 30, 2016
---
click on a link below
THREADBARE: little stubby bundles Online Exhibition
NEW little stubby bundles added June 1
LSB16-17, 2016
5 x 5 ½ x 2 inches, textiles, thread
LSB16-16, 2016
10 ½ x 11 x 2 ½ inches, textiles, thread, rope
LSB16-15, 2016
,5 ¼ x 5 x 2 ¼ inches, textiles, thread, clothing label
LSB16-14, 2016
6 ½ x 8 ½ x 4 inches, textiles, thread, rope, clothing label
LSB16-13, 2016
7 ½ x 7 x 3 ½ inches, textiles, plastic, thread, yarn
LSB16-03, 2016
5 ½ x 5 ½ x 2 inches, textiles, thread, bell, cording
LSB16-06, 2016
11 x 8 ½ x 3 inches, textiles, thread, pins, cord
LSB16-09, 2016
10 x 10 x 3 inches, textiles, yarn, thread, pins, curtain trim
LSB16-02, 2016
5 x 5 x 1 inches, textiles, plastic, thread
SOLD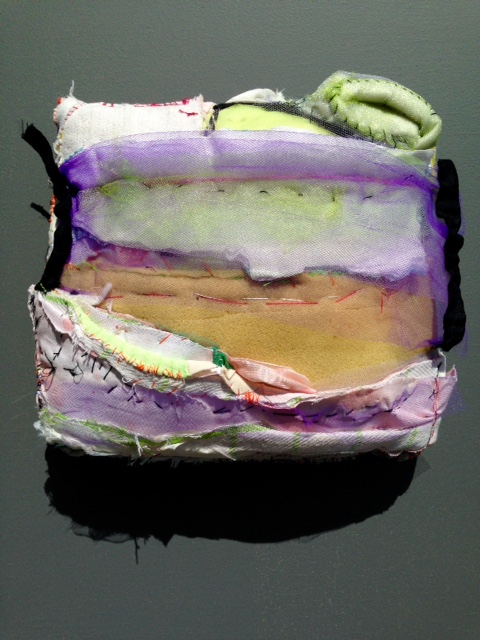 . LSB16-08, 2016
9 ½ x 10 x 3 inches, textiles, foam, thread, pins
LSB16-01, 2016
7 x 7 x 1 ½ inches, textiles, thread, pins
LSB16-05, 2016
13 x 11 x 2 inches, textiles, bungee cord, thread, pins, pipe cleaner
LSB16-11, 2016
7 ½ x 5 ½ x 1 ½ inches, textiles, acrylic, thread, yarn
LSB16-04, 2016
9 x 9 ¼ x 1 ¼ inches, textiles, potholder, thread, ribbon, pipe cleaner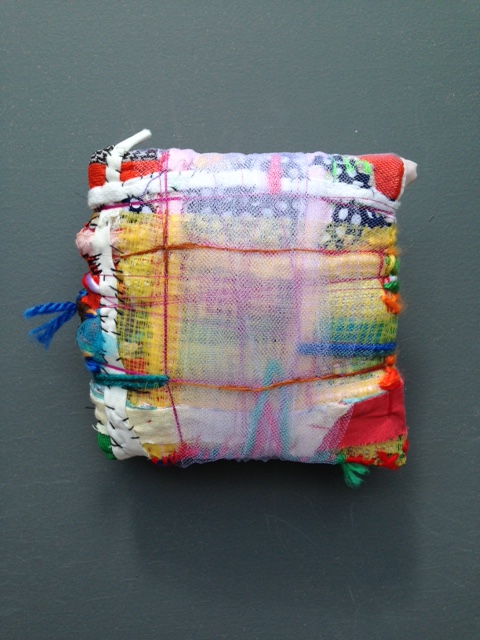 LSB16-12, 2016
5 x 5 x 1 inches, textiles, plastic, thread, yarn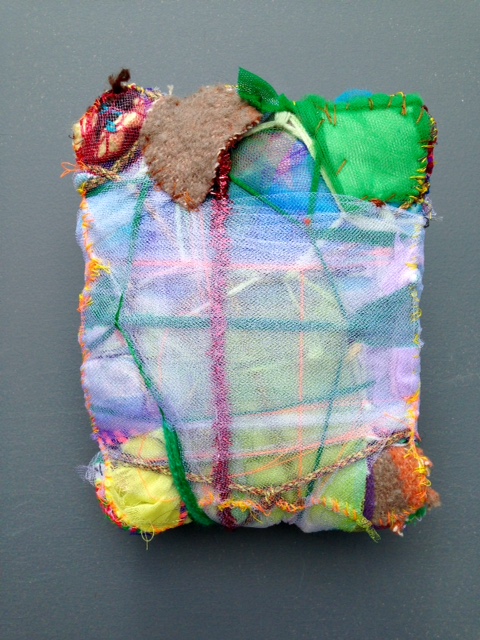 LSB16-07, 2016
7 ½ x 5 ½ x 1 ½ inches, textiles, thread, cord, pipe cleaner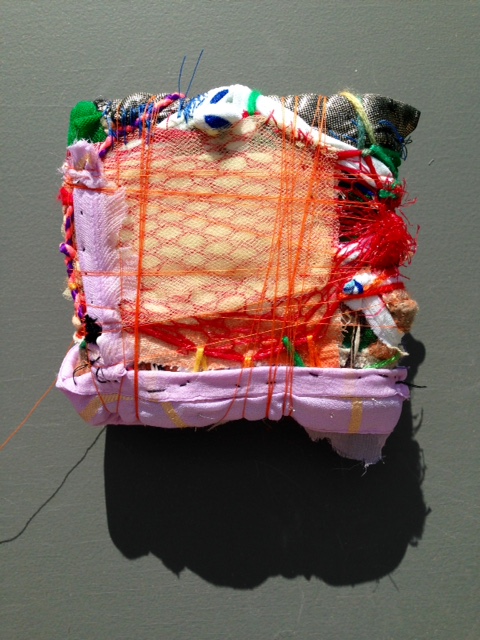 LSB16-10, 2016
5 x 5 x 1 inches, textiles, yarn, thread, plastic
THREADBARE: little stubby bundles
Julia Couzens
May 1 – June 30, 2016
Another Year in LA is pleased to present THREADBARE: little stubby bundles, an exhibition of small textile constructions by JULIA COUZENS. This is her first solo exhibition at Another Year in LA.
For this online exhibition, Couzens presents new work made as much from an artisanal as a "fine art" aesthetic. Literally pulled from the many stockpiles of her studio materials, this suite of objects triggers our sensibilities about what is valued. The work is an amalgam of approaches drawn from sculpture, drawing, assemblage, and craft. Deploying a repertoire harvested from the commonplace, such as blankets, rope, wire, and thread, she uses mummifying gestures -- stitching, suturing, binding, and wrapping -- to form eccentric and densely layered bundles.
Each small bundle is like visual haiku, a concentrated note, supported by ideas found in her larger work. They are small parts of a bigger story. The work possesses characteristics of the random and is insistent in its uncertainty. But like Native American parfleche, the bundling is made with intention and uses the grid -- more wabi sabi than precise -- for a footprint. Acutely aware of composition, line, color, and mass, Couzens's painterly abstraction buries beneath the surfaces countless wobbly geometries. Some remain partially visible, revealing the embedded gestures of fixation, their structure dependent upon an underside or an invisible internal symmetry.
To the extent she uses found pieces of handmade tablecloths, potholders, crochet, embroidery, Couzens works in collaboration with anonymous others -- most likely no longer living. In that sense her multifaceted work refreshes the past and is relevant to current conversations about the inclusivity of craft, the commitment to handmade production, and the role of abstraction formed from an intuitive contemplation of material and bodily immediacy.
ABOUT THE ARTIST
Couzens received her M.F.A. from the University of California, Davis in 1990. She earned her undergraduate degree in Humanities with an emphasis on English and philosophy, and still maintains a creative writing practice, including reviews of contemporary art for squarecylinder.com.
Couzens's work has been recognized with a Louis Comfort Tiffany Fellowship, and was presented at the Association of Art Historians Annual Conference, Body and Soul: Exploring Objects -- Making Myths, Edinburgh, Scotland, 2000.
Her work has been shown in numerous solo and group exhibitions throughout the United States. These include the California Palace of the Legion of Honor, San Francisco; Butler Institute of American Art; Hammer Museum; Berkeley Art Museum/Pacific Film Archive; Crocker Art Museum, Sacramento; Austin Museum of Art; Orange County Museum of Art; Weatherspoon Art Museum at the University of North Carolina; The Di Rosa Preserve; Christopher Grimes Gallery, Santa Monica; and Yale University Art Gallery.
Couzens lives and works on Merritt Island, on the Sacramento River delta, outside the community of Clarksburg, California.
'