---
REVIEW

November 1

- December 31, 2022
---
As I get older, I find myself often revisiting prior works, wondering what went right, wrong, and how to push it forward. David asked if I would be interested in doing a show at a moment when I had been reworking a piece I showed at Another Year in LA's space on San Fernando Rd. in 2008. The work was a video of myself trying to sink in a boat below the horizon in tandem with the sun as it sets below the horizon. I relooked at the piece in summer of 2021 when I was preparing for a large show of work from the past 19 years at Shockoe Art Space in Richmond, VA. I remade a version of the boat and took it out to the east coast of Lake Michigan to paddle west towards the setting sun. The new boat was too small. It would often sink when I would get in it or tumble over when a wave hit it. But, I now had a daughter and the boat happened to be made her size. I began to attempt to teach her how to sink below the horizon with the setting sun. I started to think of other works that I had shown at AYILA in their San Fernando Rd. space and their gallery located in the Pacific Design Center that with time, revealed themselves to be in need of reworking.
This show is a review or revision of a work from each of the 3 solo exhibitions at AYILA's gallery spaces and revisiting a livestream performance from one of the exhibitions I had on their online platform. The works chosen were not very specific or intentionally curated, but just what happened to emerge out of my studio and into something finished. I am not sure if they are meant to replace the prior works. I haven't erased their predecessors, but I have yet to review them side by side. They are probably best kept as memories.
REVIEW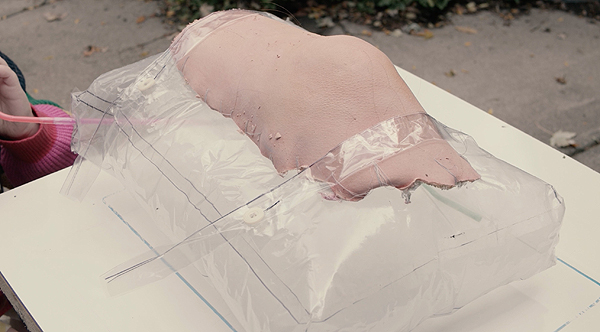 HD Video and graphite on paper component, 5'53 and 18" x 26, Edition of 3 and 2 A/P's, $1500
I want to purchase TRAINING MY DAUGHTER
Notes on TRAINING MY DAUGHTER TO RAISE MY KNEE UP UNTIL IT TOUCHES THE BOTTOM OF WHERE THE WEATHER BEGINS
The current iteration of this video was intended for AYILA's online platform. I planned for the finished work to be viewed on a computer screen or a mobile device. Time based work that I create that ends up in a physical gallery often has another component outside of the moving image on a screen. Frequently it is a drawing, a photograph, or an object that includes text. I am interested tethering the world in a video to something outside of it. Creating tension between the two. They could exist separate, but they have been forced to couple together. There is a back and forth, a continuous reconsideration of coming together and divorcing themselves from each other.
This work was intended to be self-contained, not to have a physical component. I was unable to achieve that. In my mind, the finished work is the video and the hand drawn text above. They are intended to exist simultaneously in the same space with the text sitting above a monitor mounted on a wall. This work does not exist in that situation. The viewer can watch the video as is. They can download the image file of the hand drawn text, print out, and hang it on the wall next to their monitor. They can watch the video on their phone and zoom in on the drawing on a friend's phone to view them simultaneously. I doubt viewers will engage with figuring out a way to simultaneously view the video and hand drawn text. The day dream of the activity is worthwhile to consider.
HD Video, 7'31, Edition of 3 and 2 A/P's, $1500
LIVE STREAMED PERFORMANCE

Saturday, December 31, 2022
FINAL POSITION(S), 2016 - 2022
FINAL POSITION(S) is a live stream table top performance using paper cuts to illustrate the sculptural potential of Richard Haley's future corpse. Paper dolls of Haley are used to demonstrate various possibilities. The work initially debuted as a livestream work for Acre TV in 2016. It was also performed in real life with a closed-circuit camera at the Detroit Institute of Art and also live streamed to Another Year in LA in 2017. This iteration is based on Haley's memory of the initial work.