---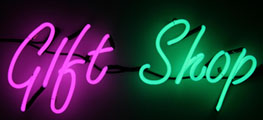 Part Installation, Part Performance, Part Exhibition featuring 101 artists - curated by David E. Stone
Opening Reception - Friday, November 17 from 7pm - 10pm
November 17 - December 15, 2006
---
DOWNLOAD THE PDF EXHIBITION PRICELIST
NEW WORK FOR SALE FROM GIFT SHOP EVERY DAY!
REQUEST THE GIFT SHOP INTERACTIVE VISUAL TOUR WHEN READY
---
GIFT SHOP features Prints, Multiples, Sculpture, Paintings, Postcard, T-Shirts, Ashtrays, Posters, Books, Plaques and Objects de Art by the following 101 artists:
Joel Addas, Fumiko Amano, John Baldessari, Steve Bethel, Tom Bills, Charles Parker Boggs, Stephan Bohnenberger, Steven J. Brooks, Dave Burns, Don Celender, Christo, YaYa Chou, Rachel Clarke, Wayne Coe, Pat Courtney, Julia Couzens, Torreya Cummings, Linda Day, Eric Doeringer, Marcel Duchamp, Marta Edmisten, Mark Emerson, Chuck Feesago, Fette, Stephen Fleming, Dan Ford, Henrik Hakansson, Richard Haley, Kathryn Hargreaves, Gale Hart, Robin Hill, Damien Hirst, Hugo Hopping, Adam Janes, Chris Johanson, Jasper Johns, Vincent Johnson, Kim Jones, Stephen Kaltenbach, Anish Kapoor, Virginia Katz, Osman Khan, John Koller, Kasper Kovitz, Maria Kozic, Ludger Krane, David Krepfle, Tom Krumpak, William Pope L., Michele LeCompte, Fabian Lopez, Leora Lutz, Brian Mallman, Mary Jean Mallman, John Matkowsky, Mery Lynn McCorkle, Jamie McMurry, Jacob Melchi, Mark Mothersbaugh, Moira Murdock, Bruce Nauman, Claes Oldenburg, Joshua Ortega, Parris Patton, Devon Paulson, Bruce Pearson, Richard Prince, Tim Quinn, Lucas Reiner, Carol Saft, David Scher, Bob Seng, Ward Shelly, Fran Siegel, Amy Silman, Bob & Roberta Smith, Michael Smoler, Lisa Stefanelli, Bruce Stiglich, Cathy Stone, David E. Stone, Marie Thibeault, Fred Tomaselli, Rosemary Trockel, Ann Trondson, David Trulli, Debra van Hulsteyn, Kristian von Hornsleth, Jerrin Wagstaff, Lawerence Weiner, Paige Wery, David Wetzel, Charmaine Wheatley, Dave White, Marcelle Wiggins, Rodolf Huber Wilkoff, Galelyn Williams, Hans Winkler, Martin Wilner, Scott Wolniak, and Barbara Zucker.
Also you will find many rare & historic books, catalogs and magazines including Parkett #1 (SOLD), Dada Surrealism and their Heritage (MOMA), The Machine (MOMA) and many more.
---
another year in LA is located at 2121 N. San Fernando Road, #13, Los Angeles, CA 90065
Gallery phone: 323-223-4000