---
"The Color of Rhythm-Redux"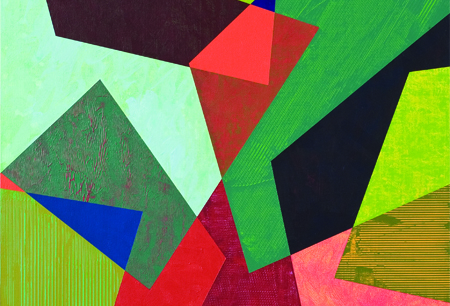 solo exhibition of paintings by Mark Emerson
November 15 - January 4, 2012
---
Click here for the exhibition
page
PRESS RELEASE
Another Year in LA is proud to present, "The Color of Rhythm-Redux", the inaugural solo exhibition for the painter, Mark Emerson. This show will run from November 15, 2012 through January 4, 2013.
Mark Emerson's paintings involve rhythms and not just visual ones but are frequently referred to in musical terms. Diana Daniels, associate curator of contemporary art at the Crocker Art Museum says of his paintings that "they and the artist see a clear association between the artist's love of music, his own musical hobby (playing drums) and a passion for modern jazz." Emerson carries that musical metaphor beyond his painting practice when he asks "Is Miles Davis's "Birth of the Cool" better or less that "Bitches Brew" or are they just different. Different because they reflect the artist's life experiences, growth and change".
Mark Emerson is a formalist - his concerns are color, space, form, boundaries and rhythm. David Roth wrote in SquareCylinder.com, "In organizing the visual elements in the work, Emerson utilizes devices like columns, squares, triangles, rhomboids, parallelograms, trapezoids and polygons to fill the canvas and further subdivides the surface by repeating pattern after pattern thereby dissolving distances between foreground and background in ways that make your head buzz".
EXHIBITION POSTCARD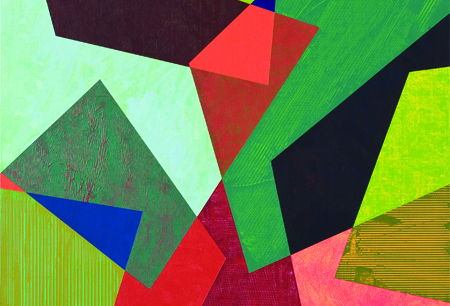 SELECT IMAGES FROM THE EXHIBITION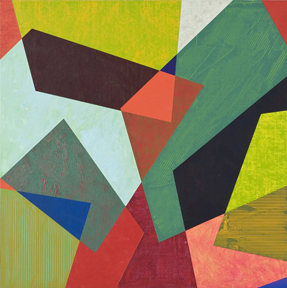 COLOR BLIND FALLING DOWN YEAH, NO YEAH
2010, 24" X 24", polymer on linen 2010, 86" X 72", polymer on canvas 2010, 60" X 60", polymer on canvas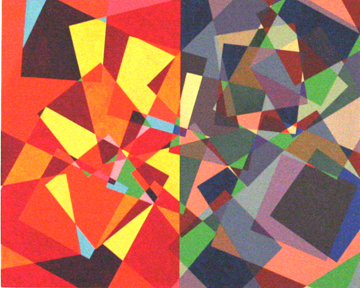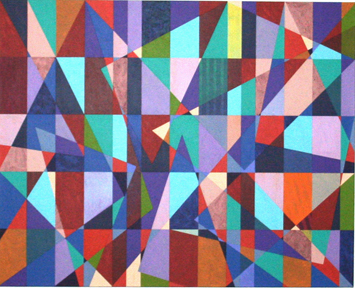 PLEASE FORGIVE TANGENT LARRY & KARL UNTITLED ORANGE
2012, 40 x 50", polymer on canvas 2012, 40" x 50", polymer on canvas 2011, 22" x 22",polymer on paper
---
another year in LA is located at the Pacific Design Center, Suite B267, 8687 Melrose, West Hollywood, CA 90069
Gallery phone: 323-223-4000