---
News about our Gallery Artists:
MARCH
Stephen Kaltenbach is included in a group exhibition in Venice, Italy

"L'astronauta caduto" (The Fallen Astronaut) curated by Valentina Lacinio at A Plus A Gallery opening March 10 and continues until May 10.
For more info:
https://www.facebook.com/events/981768521916847/

a cura di Valentina Lacinio
Galleria A Plus A, Venezia
opening 10 marzo 2016, ore 18.00
preview stampa ore 17.00
11 marzo 2016 - 10 maggio 2016
http://www.aplusa.it/
---
APRIL
Stephen Kaltenbach will be the subject of a solo exhibition, A SHORT ARTICLE ON ART EXPRESSION: Actualization at The Viewing Room inside Marlborough Chelsea, April 30 - June 18, 2016. Opening reception is Saturday, April 30 from 6pm - 8pm.
Marlborough Chelsea
545 West 25th Street
(between 10th and 11th Avenues)
212-463-8634
http://marlboroughchelsea.com/
Click here to read A SHORT ARTICLE ON ART EXPRESSION by Stephen Kaltenbach
---
A SHORT ARTICLE ON ART EXPRESSION
by Stephen Kaltenbach
from the Live In Your Head, When Attitudes Become Form exhibition catalog
curated by Harld Szeemann and held at the Kunsthalle Bern, Switzerland, March 22 - April 27, 1969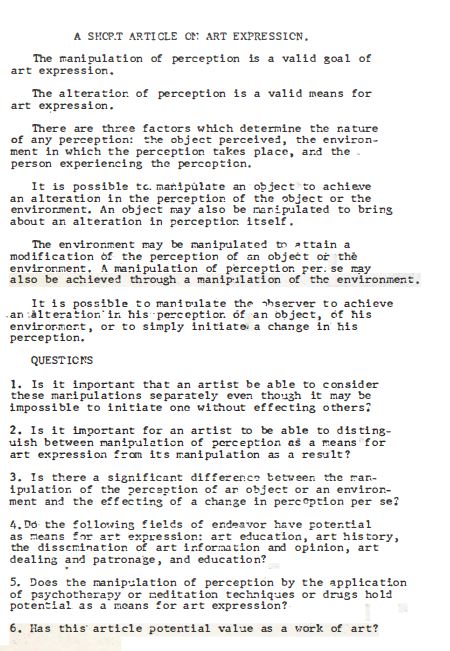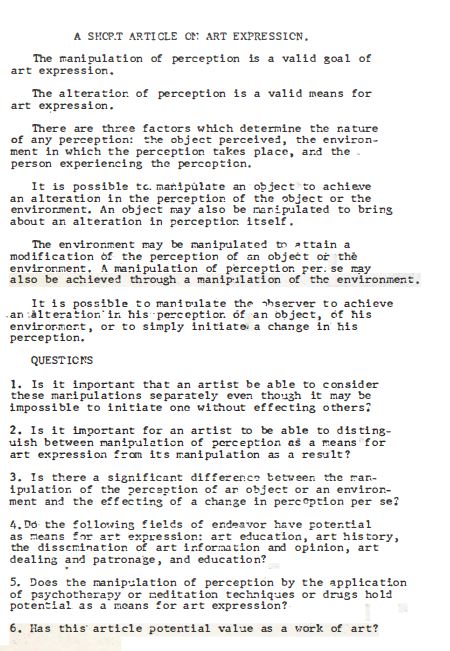 ---
another year in LA is an online gallery now and no longer located at the Pacific Design Center
Gallery phone: 323-223-4000